Train-the-Trainers Workshop
For teachers and other education professionals in creative media industries.
Train-the-Trainers Workshop (TtT) is a 2 day intensive course on engagement methods in entrepreneurship and management literacy in the areas of film and other creative media.
TtT Workshop is ideal for teachers working in different subjects of film, arts, design, animation and other media courses. Teachers in management as an elective discipline in creative media courses are also welcome.
Come try the Cinema and Industry Alliance for Knowledge and Learning II Course Toolkit and learn to help students develop entrepreneurial and intrapreneurial skills and competences!
TtT Workshop is part of the Creativity Meets Business 2015 Conference. Registration is limited.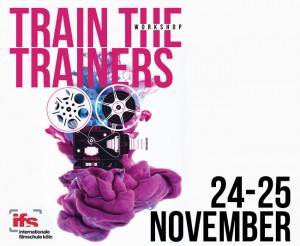 Apply here by 1 October (phase 1) or 26 October (phase 2)
Notifications will be sent to applicants by 4 October (phase 1) or 30 October (phase 2).
Schedule
Day 1 – 24 November
15:00-15:45 Keynote speaker: Simone Stewens (ifs)
What competences should we give our students for the current film environment?
16:00-18:00 State of mind: Understanding the film and creative media student
Why entrepreneurship and management are relevant – Pandora Cunha Teles (Ukbar) Manuel José Damásio (ULusófona)
Day 2 – 25 November
9:30-12:30 Presentation of the CIAKL II Course Toolkit – Thorsten Kliewe, Arno Meerman (MUAS)
How to teach the course and engage the students
Pedagogical course/methods
12:30-13:30 Visit to ifs studios
14:30-15:30 The global stage: Broaden your horizons
Current technologies, audiences and current business models – Nuno Cintra Torres (ULusófona)
15:30-16:15 Keynote speaker: Nuno Gonçalves (Cinemundo)
Buying, Selling and Co-Producing Contents for Multiplatform Distribution
16:30-17:30 Breaking barriers: The money question
Talking the grey suits and raising finance – Pandora Cunha Teles (Ukbar) Manuel José Damásio (ULusófona)
2015 Creativity meets Business Conference
We are proud to confirm that the "2015 Creativity meets Business Conference" will now be hosted by the international film school (ifs) in Cologne. As a result, the conference will not take place anymore outside of Cologne, but right in the city. Given the new situation, the conference will also be postponed by one month, giving you and your colleagues additional opportunities to submit an abstract.
On November 26, around 70 academics and practitioners will meet at the 2015 Creativity meets Business Conference in Cologne to share knowledge, develop skills and create new cooperation for further stimulating employability and business success in the creative media industries.
Today, a major challenge exists in integrating creative thinking and acting with business and entrepreneurial thinking and acting. This is not only true for the practice in creative media industries, but also for the education of students. Thus, an event is needed to share what works and what does not, and to create a road map for the future.
We are now calling for proposals for presentations, papers, posters and good practices. The deadline for proposals is September 30, 2015 (http://call.cmb2015.com). All contributions will go through a double blind review process and be published in the conference proceedings (with ISBN number). Please note that full papers have to be handed in after the conference, thus allowing authors to take into account discussion results from the event.
As we also aim to bring together stakeholders with diverse backgrounds in order to develop new ways of fostering entrepreneurial thinking and acting in creative media industries, the event requires you to apply for one of the 70 available seats. Application options are:
We are looking forward to welcoming you to the 2015 CMB Conference.
CIAKL II in the GEECT meeting, in Jerusalem!
Direct engagement collective event – GEECT Best Kept Secrets VI
This year, GEECT Best Kept Secrets VI (BKS) happened in Jerusalem, at the Sam Spiegel Film & Television School. The sixth edition of BKS was dedicated to the theme of alumni, under the title "School Alumni Relations. Going the Extra Mile." It constituted a turning point for the engagement of the main target group of our project, in a direct, collective dissemination event. Professor Manuel José Damásio presented some of the key results of CIAKL II to directors and representatives of film and audiovisual media schools.
The full programme is available here.