Lápis Azul won a SOPHIA 2014 Award
Rafael Antunes was one of the students of CIAKL I Entrepreneurship for creative industries course, and won the Portuguese Film Academy SOPHIA 2014 Award for the best short Documentary with Lápis Azul.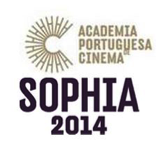 CIAKL II represented at CILECT Congress 2014 (13 and 16 October)
The International Association of Film and Television Schools (Centre International de Liaison des Ecoles de Cinéma et de Télévision – CILECT) was founded in Cannes, France in 1955, the brainchild of the two leading figures of the French film school IDHEC (Institut des Hautes Études Cinématographiques) – Marcel L'Herbier (IDHEC President) and Rémy Tessonneau (IDHEC General Director).
CILECT includes over 160 audio-visual educational institutions from 60 countries on all continents with more than 9,000 teachers and staff that annually train more than 55,000 students and communicate with an alumni network of more than 1,330,000. More than 65% of the world's highest box-office film and television creators are graduates of CILECT member schools.
CILECT Congress, was hosted by Chapman University's Dodge College of Film and Media Arts in Orange County, California. CIAKL II coordinator, Manuel José Damásio, was one of the invited speakers and took that opportunity to introduce CIAKL II and approach its main goals, as well the main achievements so far.
It was an excellent opportunity to reach the international community in the area of film and media and the connection of HEI with the industry.
CIAKL II panel at ECREA 2014 (13 to 15 November)

The ECREA – European Communication Research and Education Association is the learned society for communication scholars across Europe and beyond. Individuals, institutions and associations have chosen to become members of ECREA to join a large community devoted to the development and the quality of communication research and higher education in Europe.
Lusófona University, partnered by CIAKL II, hosted ECREA 2014 International Conference and Manuel José Damásio, the project coordinator, moderated the panel Innovation Entrepreneurship and Communication, composed by CIAKL II speakers.
| | |
| --- | --- |
| Speaker | Title |
| Thorsten Kliewe (Muenster University) | Evidence based creativity & Communication for successful innovation and business innovation |
| David Lamas (Tallinn University) | Fostering entrepreneurship among interaction design students at Tallinn University |
| Nuno Cintra Torres (Lusófona University) | Competences, Place, Opportunity: The Missing Link |
| Pandora da Cunha Telles (UKBAR) | Cinema self-distribution strategies: The Portuguese case |
| Linda Kronborg (VIA University) | Learning new ways to entrepreneurship |
| Francisco Costa Pereira (Lusófona University) | Entrepreneurship Education in Creative Industries – the vision of their actors |
Congratulations to the panel for contributing to the conference success!